A new home means new beginnings. There is always something exciting about starting anew within a new environment. And to celebrate this new start, DIY and decor enthusiasts will immediately start to work with aesthetics. A front porch is what everyone will first see when entering a new home. Hence, keeping it aesthetically pleasing is a must to give a good impression. Check out ten easy yet effective porch decorating ideas in this article.
Items like textured rugs, hammocks, and furniture will affect your front porch aesthetic a lot. But before getting your hands dirty with porch decoration, make sure to check out other factors like HOA rules and space available in your area. There's a lot of decoration options when it comes to front porches. 
One of the most exciting things about having a new home is decorating it. After the trouble and stress of moving things, unleashing your creativity via decorating your home is a big stress reliever. What decorating options are available for a small space such as a front porch? How can you make your front porch stunning and inviting? If it's your first time designing your own porch, here are the ten decorating ideas you can do to make a cozy a stylish space. 
10 Porch Decoration Ideas To Choose From For Your New Home
1. Add Porch Swings
Porch swings are great for three things: they are inexpensive, space-efficient, and comfortable. You can add this as a decoration and a functional element to your porch. And if you need more space, porch swings are easy to remove as well. Swings usually come in different colors and shapes, so you'll have many options to choose from. See some inexpensive options here.
If you don't have a budget for a fully-furnished decoration, or if you don't have a big porch space, a swing is a great alternative. You can use a single-seat swing or go big with a sofa-like structure attached to ropes or chains. Just make sure that your porch anchor can support your swings. 
2. Hammocks And Rocking Chairs
Another unique option for unconventional furnishings is using hammocks and rocking chairs. Hammocks are great if you want a minimalistic look on your porch. It's a great addition to relax and enjoy the open air while listening to relaxing songs. The fabric provides natural cooling, which makes you more comfortable during the warmer days. 
Meanwhile, an outdoor rocking chair is perfect for people who don't like bulky furniture on their front porch. It's a good furniture alternative if you want your porch to stay minimalistic and uncluttered. In addition, most rocking chairs nowadays have a modern touch, which can fit most house styles.
3. Extend The Greeneries To Your Porch
Additional greeneries will always be a welcome addition to any front porch. These pots of plants can serve many purposes, not just for the pure aesthetic value.  Greeneries can add depth and make the whole place feel comfortable without taking a lot of space. You can also use the vase that houses these plants to add to your overall decoration plants. 
Other decoration enthusiasts use vines and hanging plants to get a more natural feel. Others would find a vase of flowers to be more suitable in their small porch. If you don't have the time or garden for greeneries, you can hang a wreath at your front door instead. There are so many options to choose from when it comes to adding life to your front porch. 
4. Place Good Light Sources 
Another way of adding character to your patio is using light sources. Most people will see lighting sources as practical additions only: keeping the surroundings with light at all times. However, different kinds of lights emit different aesthetics that can bring the whole place to another level. 
For example, Christmas lights can emit warm and comfortable light, perfect for relaxing and spending time with family. LED strips are also an option for those who need more brightness. Candles and lamps are other options for giving an accent to the environment. If you're really into the game, you can use solar-powered LED flowers that switch off and on without additional input. 
If you want a more natural light source, a simple fire pit should be a creative way. Nothing can top the comfy and "hygge" feeling of sipping hot cocoa with your family beside a fire pit.  This light source is often used on stone porches located near a body of water. 
5. Hanging Decorations
When done right, hanging decorations are very useful in setting the mood and the character of a place. Of course, it's not as easy as hanging your decorations and calling it a day. Like other options in this list, hanging sets can come in different forms and uses. You can add natural decorations like hanging plants or functional items like ceiling fans. 
Smaller things like wind chimes are great for smaller front porches. Other decorative hanging chimes are also a great idea, especially if natural lighting gets into your patio. Lanterns and decorative lights are also good options. 
6. Make Your Customized Signs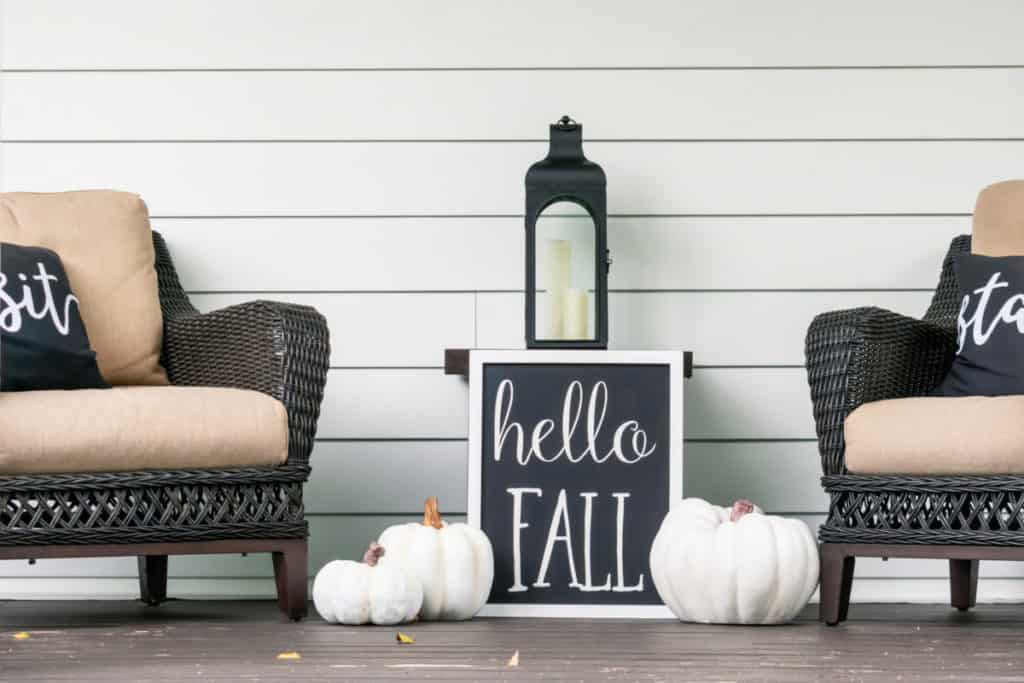 If you want your front porch to be memorable, you might want to develop a unique decoration concept. But this task can take a lot of time and effort, which many people don't have. Is there a simple yet effective way to add a flair to your front porch area without doing too much effort or money into it? Of course, there is!
Custom signs are simple yet very useful as a porch decoration.  You can put everything you want to make the place welcoming and memorable: from a simple wood-carved "Welcome" to more creative signages. Wooden carvings are the most commonly used materials for customized signs, but other signage inspirations can also be used. 
7. Use Textured Rugs 
Changing a part of the front porch requires a lot of carpentry and design efforts. Not all people have the time, resources, or both, just to beautify their porch floors. Thankfully, this problem can be easily fixed by using textured rugs or carpets. Textured rugs can add another layer of color without painting the floor or removing the materials installed on it. 
This style is a good strategy to smoothen out rough indoor floors. If fabric floors are not your thing, consider adding graphic floor tiles or floor mats. Take note: if you're planning for an outdoor porch, you might want to invest in stone pathways and weatherproof floors instead. 
8. Your Gardening Tools As Decorations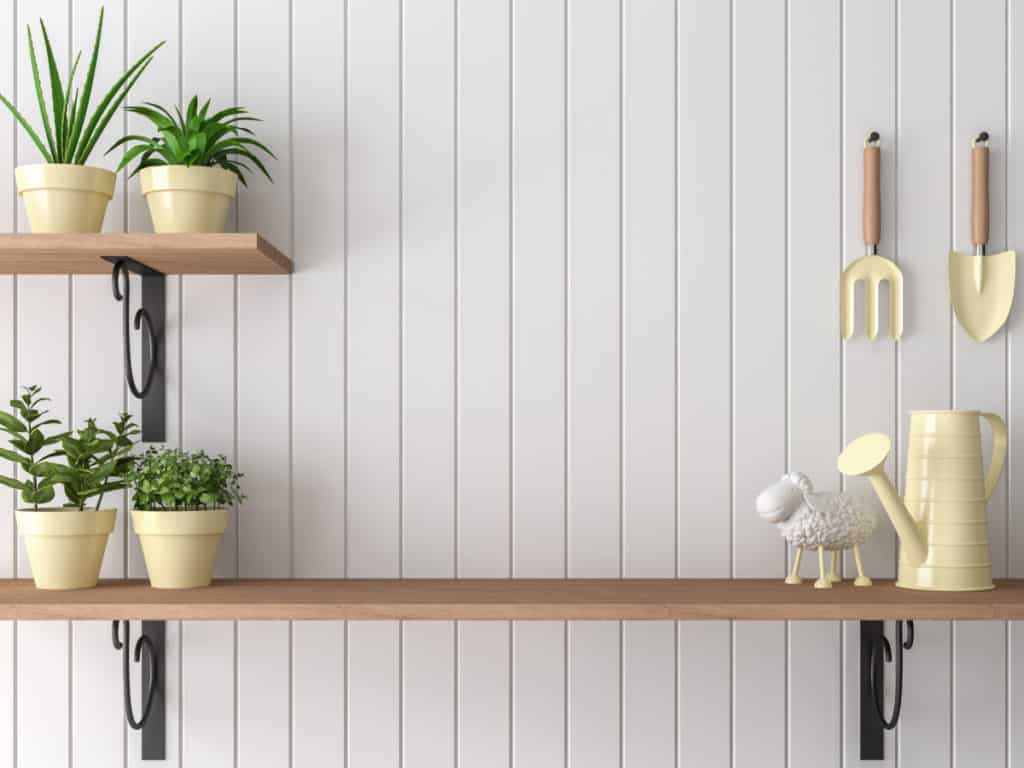 You might be wondering why and how gardening tools can be a good decor idea. If your home is very 1900-inspired, then this question is out of the box. One of the uses of oakwood tables is to act as a support for making garden decor. With the dark-brown house exterior, the gardening tools can fit right into the mood. Just hang some vintage pails and watering cans to your exterior walls. 
Of course, this takes a lot of consideration. If you have space for a shed, then using it for gardening storage is recommended. But if you want easy access to your gardening tools, using those for decorations makes sense. This theme is very fitting if you're living in a farmhouse. 
9. Don't Forget To Decorate Your Front Door
Front doors are often the forgotten piece in porch decorations. In some cases, the homeowners don't change their front doors at all. Instead, they will just match the color of their decorations to the color of their front doors. This method is useful in some cases, but not always. Especially if you're planning to create seasonal decorations, your front porch's color can ruin the almost-perfect theme. 
If you're going for the looks, make the effort of decorating your front door too. It can either be as simple as hanging a wreath in front of your door or changing the paint based on the decorations. Just make sure to consider your front door while you're decorating our porch interiors. 
10. Current Season Or Holiday
And last but not least, you can make your decoration centered on the current season or holiday. Or, you can stick to a theme if you don't want to redecorate more often. Whatever your preference is, don't forget to set the scene. If you want a beach house effect, don't add an object that looks modern or minimalistic. If you want a natural-looking porch, avoid bright or overly dull colors. Only use items that suites your decoration style. 
Do You Need To Consult HOA For Your Decorations? 
When dealing with the HomeOwners Association, a rule of thumb is to check the local rules before deciding on your decorations. Not all neighborhoods follow the same HOA rules. So if you're not sure, it's better to consult your HOA CC&Rs to avoid getting fined. Since your decorations are on your property, HOAs cannot make you remove your decorations. But they can fine you for not following the guidelines. 
Another rule of thumb when decorating is just to be mindful of the space you're using. Avoid excessive lights or decorations that can be noisy or inappropriate. And take note: before you pay the fine, make sure that you received a warning first.